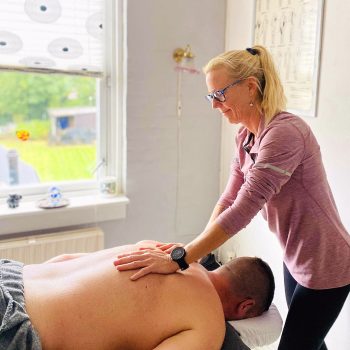 Hvordan foregår en behandling med terapi?
Du ankommer til min privatbolig, hvor du vil banke på min hoveddør, jeg vil tage imod dig. Vi vil gå ind i entreen hvor du kan stille sko og hænge overtøjet, så vil vi sammen spritte hænder, inden vi går op på første sal, hvor mit klinikrum er.
Hvor mange behandlinger skal jeg have?
Jeg vil typisk anbefalede tre til fem behandlinger for at komme til bunds i de problematikker, du kommer med. Der bør gå en uge imellem første og anden behandling, og ca. to uger inden tredje behandling. Derefter taler vi sammen om, hvor mange uger der skal gå indtil næste behandling; typisk vil det være et sted mellem tre og fem uger.
Kan jeg bruge flere forskellige behandlingsformer under en behandling?
Svaret er ja, jeg bruger tit forskellige behandlingsteknikker. Hos mig er det tiden, du betaler for, og så tager vi det fra værktøjskassen, som vil passe bedst til de problemer og udforinger du gerne vil have ændret. Så du kan dele behandlingstiden, som eksempel starte med fysiurgisk massage og slutte med zoneterapi, mens Multivib madrassen vibrerer. Eller få Kraniosakral terapi, og derefter zoneterapi samtidig med Multivib. Det er også muligt at få NADA, øreakupunktur sammen med massage, Kraniosakral terapi eller zoneterapi.
Det vigtigste for mig er at lytte til dig og dine behov, så du får den bedste og tryggeste oplevelse.
Hvilken indflydelse har corvid19 og coronasituationen for din behandling?
Jeg følger sundhedsmyndighedernes anbefalinger. Jeg spritter af før og efter hver klient, skifter håndklæde og tæpper. Jeg arbejder gerne med visir eller mundbind, og du er velkommen til det samme, hvis det er tryggere for dig.